Distribution Services
All UAE CV Distribution
CV Warehouse resume distribution helps candidate secure high-earning job with reputed companies.

How its Works?
Our 5 Easy Steps Guidlines
Step1 : Send Us your Details

Send your CV, cover letter with mentioning which CV distribution you wants.

Step2 : Pay for Services

After getting confirmation from us, make the payment and send receipt along with your update CV+ Cover letter via email to us.
(If you don't have cover letter or nice CV you can order our combo (CV+Cover letter writing and distribution)

Step3 : Let us Work!

One of our consultants will confirm the receipt of payment and guide you if any recommendation require in your current resume.

Step4 : CV Distribution

Our experts will distribute your Resume to 80,000 to 120,000 with-in 7 working days.

Step 5 : Start Getting Interview Calls

Once our experts distribute the resume over thousands of companies, you will start getting interview calls and emails for interview scheduling.
120$ / 400AED
Buy Now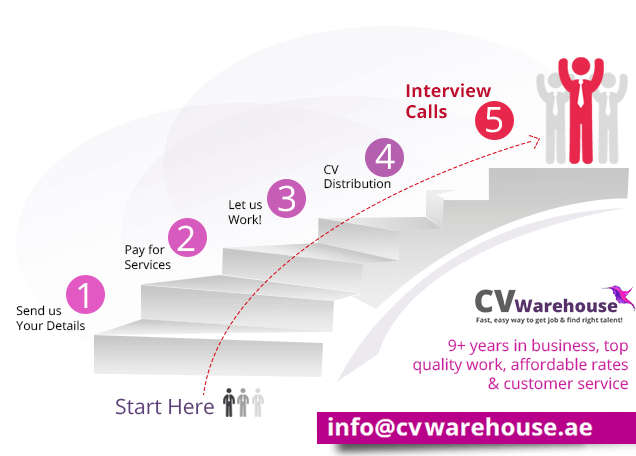 Fast and easy way to get job in a few days or in limited time
60,000 professionals get contacted by employers every month through cvwarehouse
What is Resume/CV Distribution? And why a job seeker should take it ?
Its very hard to get response to job applications in 4 to 7 days … but we have made it easy for you. Now sends your Resume / CV to top companies, recruiters, top level management and hiring managers by using our distribution service. The numbers of contacts are from 100,000 (one hundred thousand) to 120,000 (one hundred twenty thousand), surly when your resume goes into the email of this big numbers of recruiters you will get call for interviews. This distribution maximizes the exposure of your Resume thus increasing your chances of landing with interviews and job opportunities. As over 70% of jobs are not advertised in UAE, sending (distributing) your Resume land you with many interview for positions for which you are suited; in the same time, your resume will be kept in the recruiter's candidate database for future job opening. So you will get benefit from both way!
How It Works?
We will send, on your behalf, your Resume to 100,000 (one hundred thousand) to 120,000 (one hundred twenty thousand) plus Companies, Recruiters and Hiring Managers, CEOs. After signing up, & making payment send us final version of your Resume and Cover letter along with payment slip of service & in next 7 days you will start getting calls and emails for interviews. You will be in the first line of hunting jobs for both advertised and non-advertised vacancies, this give you access to what we call the "Hidden Job Market" and "Open Job Market".
We Do All The Hardwork
There is no need to spend time researching and verifying recruiters, employers and corporate hiring managers; we have done all the work for you.
CV distribution service has proven successful for fresh, executive, experienced and all types of candidates looking for dream job in their field or also for those looking for a career change.
What are the Benefits ?
· Immediate interview calls just 4 to 7 days
· Get your resume to the front of Hiring Managers
· Instantly distribute your resume to 100,000 plus Companies, Recruiters, Head-hunters and top Management.
· Save countless hours researching for Top Recruiters & Open Vacancies.
· Increase your chances of being matched to a job that is suitable for you
· Be considered for hidden jobs that are not advertised
· Have your resume retained within recruiters databases for opportunities that may arise
· Very low cost if you compare with time and money you will spend in identifying and apply jobs one by one
For cash payment detail / consultation or any information just email us at: info@cvwarehouse.ae