Resume Services
Infographic Resume
Infographic Resume is what you need if you want a scalable edge over the competition. CV Warehouse knows the real tricks behind successful Infographic resume.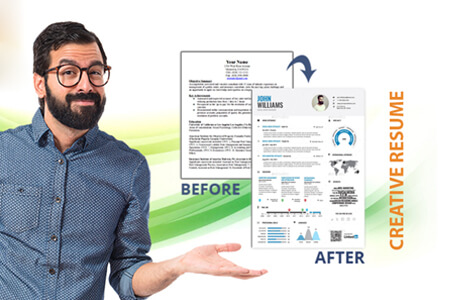 get your career story INFO-GRAPHIC style and look in
Info-graphic resume will explain your career and education in a graphical rhythm; this will catch the attention of recruiter
Standing out from the crowd is in fact not that difficult if you have the best infographic resume service. Only 0.15% of job seekers have infographic resume in the world. So it means you can easily stand out if you have infographic resume. With us, we will help you become more creative in demonstrating your talent in skills to your potential employer. In fact, infographic resumes give you control to tell your own story while providing ultimate creativity in presenting your qualifications for the job vacancy.
By using our info-graphical resume writing service, you can efficiently get an ultimate infographic resume that will help you to land a good job. Hence, here are some of the benefits you can get when you decide to have infographic resume and work with our professional team of writers, editors, and proofreaders:
Get distinguished from other competing applicants.
Show ultimate creativity, skills, and talent.
Take control when telling your own story.
Become a more effective networker.
People actually love infographics since it creatively represent visual storytelling that is more effective than other traditional approaches. Truth is, images quickly grab the attention of readers especially the recruiter that will handle your application. Through this strategy, we can infographics to your CV in order to tell your story in a different level without boring your reader and recruiter.
Hence, with infographic, your CV will be an excellent marketing document that will sell your potentials. Your chances getting your dream job will actually increase through creativity that will show your skills and talent at higher level. As a result, your qualifications can be given more attention than other competing applicants.
You will also take advantage of the following:
Modern and to the point resume design with advanced QR coding.
Completely guaranteed satisfaction.
Unique content based on client's professional experiences.
Compelling personal statement as well as core competencies bulleted for easy identification.
Highly skilled resume writer that is assigned to meet your CV requirements, expectations for consistency and quality output.
24-hour customer support which can be reached through email for fast-track options.
Unlimited revisions for ultimate clientele satisfaction and successful end results.
Directly grab HR manager's attention while boosting chances of getting hire by 70% for interview calls.
Today's job market in fact offers a lot more challenging way to land a job. Hence, you need to make sure that they stand out since there are hundreds of applicants for a single job opening. So, you have to certainly provide competitive resume with infographic details on it in order to literally "stand out". With a stunning resume, you can grab the hiring manager's attention in no time while distinguishing your from other applicants.
For every job opening, there are approximately 250 resumes received by HR managers and a recruiter usually receives more than a hundred resumes every single day. Now, don't you want to create something that will help you stand out? The answer is making your own infographic resume with updated content and highlighted details.
Through CV warehouse graphical resume, you can also establish unique identity that will help you get better recognition from your future employer. In fact, our infographic resumes successfully help job seekers to get hire & making us a reputable company. Contact us today to help you create a powerful infographic resume for your next application!
Email us for any detail: info@cvwarehouse.ae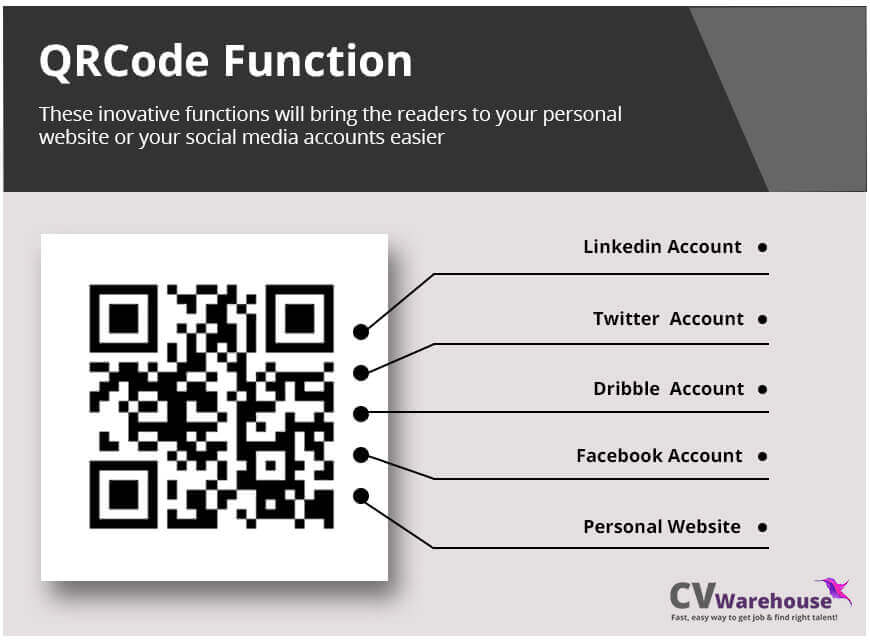 180$ / 650AED
Buy Now