Distribution Services
Urgent CV Distribution
If you need your CV distributed as soon as possible, our quick response team will do it all for you.

How its Works?
Our 5 Easy Steps Guidlines
Step1 : Send Us your Details

Send your CV, cover letter to info@cv-warehouse.com and mention that you need urgent CV distribution service

Step2 : Pay for Services

Make the payment as per our reply and send receipt along with your update CV+ Cover letter via email to us.(If you don't have cover letter or nice CV you can order our combo (CV+Cover letter writing and distribution)

Step3 : Let us Work!

One of our consultants will confirm the receipt of payment and guide you if any recommendation require in your current resume

Step4 : Ugrent CV Distribution

Our experts will distribute your Resume from 80,000 to 120,000 companies within 48 hours

Step 5 : Start Getting Interview calls

Once our experts distribute the resume over thousands of companies, you will start getting interview calls and emails for interview scheduling.
180$ / 650AED
Buy Now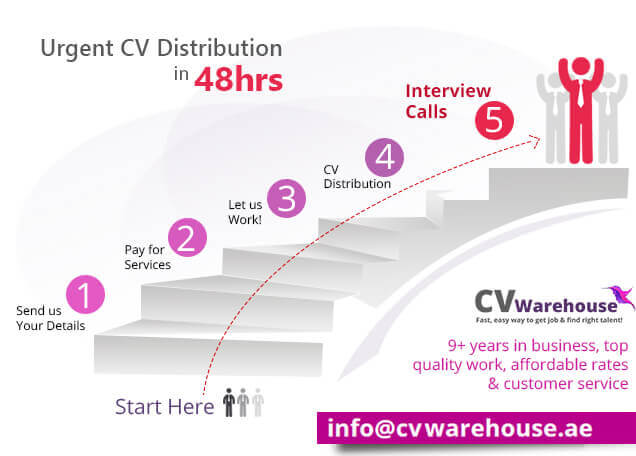 We are on top in helping urgent jobs for desprate candidates
Yes! We distribute resume within 48 hours for those candidates who need job on urgent bases & take our URGENT CV DISTRIBUTION service
UAE Free Trade Zones Resume Distribution
The Urgent CV / resume distribution is very fast resume distribution service; it means that we distribute the CV within 48 hours. Note: normal CV distribution takes 4 to 7 days. In Urgent Resume distribution service, experts send your resume instantly to recruiters, HR managers, and top management just in 48 hours and you will start getting interviews you are looking for.
Urgent CV distribution is best for those how have very limited time and desperately looking for job as soon as possible. Many of job seekers who have just one or two weeks or already cancelled the visa, urgent CV distribution is the best service to have very quick interview calls.
URGENT CV or Resume distribution service helps you to get interview calls from job consultants, HR Managers and recruiters, even if you are not registered on any job portals. Or even you did not apply for any vacancy. Normally it takes 30 to 45 minutes to register with only one job portal but CV warehouse take all of your worries away. Your CV will be distributed against thousands hidden, unpublished and published vacancies.
What are you waiting for ? apply for urgent cv distribution and get ready for interview calls.
Email us for more detail at info@cvwarehouse.ae