Distribution Services
Free Zone CV Distribution
.

How its Works?
Our 5 Easy Steps Guidlines
Step1 : Send Us your Details

Send your CV, cover letter with mentioning which CV distribution you wants

Step2 : Pay for Services

Make the payment as per our instructions (will send you via email), than email payment receipt along with your update CV+ Cover letter to us.
(If you don't have cover letter or nice CV you can order our combo (CV+Cover letter writing and distribution)

Step3 : Let us Work!

One of our consultants will confirm the receipt of payment and guide you if any recommendation require in your current resume

Step4 : UAE Free Zone DistributionÂ

Our experts will distribute your Resume to all Free Zones in UAE and also add 60,000 non free zone companies in order to give best results with-in 7 working days

Step 5 : Start Getting Interview Calls

Once our experts distribute the resume over thousands of Free Zone companies, you will start getting interview calls and emails for interview & meetings
147$ / 500AED
Buy Now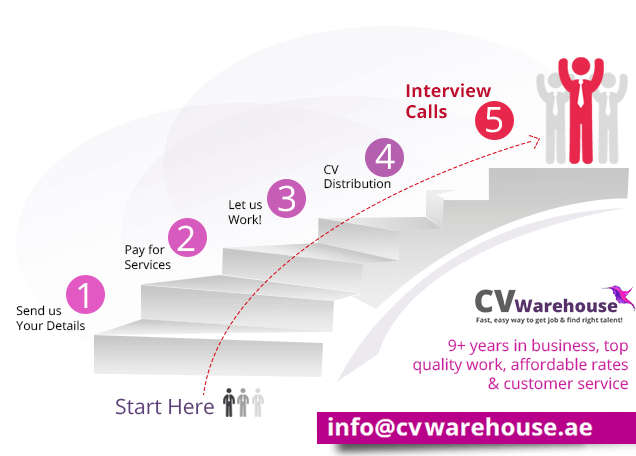 Need Job in Free Zone Company? We will finish your worries.
17,000+ professionals get contacted by Free Zone employers every month through cvwarehouse
UAE Free Zones Resume Distribution
The free trading zones in UAE function as neutral areas, where foreigners may work, trade or establish their business under more relaxed laws than those which apply in the rest of the UAE. For job seekers its also the best place to work if they are looking to work with multinational or famous companies. The biggest advantage of working or doing job in any of UAE free zone is that there is no labor ban issue. A job seeker can easily move in or out of free zone company without labor ban.
Following are main traits to have UAE Free-zone CV distribution
- Immediate interview calls just 5 to 7 days
- Get your resume in front of Hiring Managers
- Instantly distribute your resume to 40,000 plus Free Zone companies, Recruiters, Head-hunters and top Management.
- Save countless hours researching for Top Free Zone Recruiters & Open Vacancies.
- Increase your chances of being matched to Free Zone and Other jobs which are suitable for you
- Be considered for hidden Free Zone jobs that are not advertised
- Have your resume retained within recruiters databases for opportunities that may arise
- Very low cost if you compare with time and money you will spend in identifying and apply jobs one by one
Note: If you are looking for job only in free zone companies than take free zone resume distribution otherwise take general resume distribution service. The general UAE CV distribution we also include a set of free zone companies but Free zone distribution is more targeted and special distribution service.
For any detail send us email : info@cvwarehouse.ae
Free Zone List
There are more than 38 Free Zones operating in UAE.
Abu Dhabi Airport Free Zone (ADAFZ)
ADPC - Khalifa Port and Industrial Zone (KPIZ)
Umm Al Quwain Free Trade Zone (UAQFTZ)
Ajman Free Zone (AFZ)
Dubai Academic City (DAC)
Dubai Airport Free Zone (DAFZ)
Dubai Biotechnology & Research Park (DuBiotech)
Dubai Car and Automotive City Free Zone (DUCAMZ)
Dubai Gold and Diamond Park
Dubai Healthcare City (DHCC)
Dubai Industrial City (DIC)
Dubai International Academic City
Dubai International Financial Centre (DIFC)
Dubai Internet City (DIC)
Dubai Knowledge Village (DKV)
Dubai Logistics City (DLC)
Dubai Media City (DMC)
Dubai Multi Commodities Centre (DMCC Free Zone)
Dubai Outsource Zone
Dubai Silicon Oasis
Dubai Studio City
Dubai Techno Park
Dubai Technology and Media Free Zone
Economic Zones World
Fujairah Free Zone
Hamriyah Free Zone
Higher Corporation for Specialized Economic Zones
Industrial City of Abu Dhabi
International Media Production Zone
Jebel Ali Free Zone
Jumeirah Lakes Towers Free Zone
RAK Investment Authority Free Zone
Ras Al Khaimah Free Trade Zone
Ras Al Khaimah Media Free Zone
Sharjah Airport International Free Zone
Twofour54
U.S.A. Regional Trade Center (USARTC) Free Zone
Free Zones Under Construction
Dubai Maritime City
Dubai Carpet Free Zone
Dubai Auto Parts City
Heavy Equipment and Trucks Zone
Mohammad Bin Rashid Technology Park
Dubai Flower Center
Dubai Textile Village
International Humanitarian City
Dubai International Arbitration Center