Distribution Services
Saudia Arabia KSA CV Distribution

How its Works?
Our 5 Easy Steps Guidlines
Step1 : Send Us your Details

Send your CV, cover letter with mentioning that you wants Sadui / KSA CV distribution

Step2 : Pay for Services

Make the payment and send receipt along with your update CV+ Cover letter via email to us.
(If you don't have cover letter or nice CV you can order our combo (CV+Cover letter writing and distribution)

Step3 : Let us Work!

One of our consultants will confirm the receipt of payment and guide you if any recommendation require in your current resume

Step4 : Saudi CV Distribution

Our experts will distribute your Resume to around 80,000 KSA companies with-in 7 working days

Step 5 : Start Getting Interview Calls

Once our experts distribute the resume over KSA companies, you will start getting interview calls and emails for interview scheduling.
147$ / 500AED
Buy Now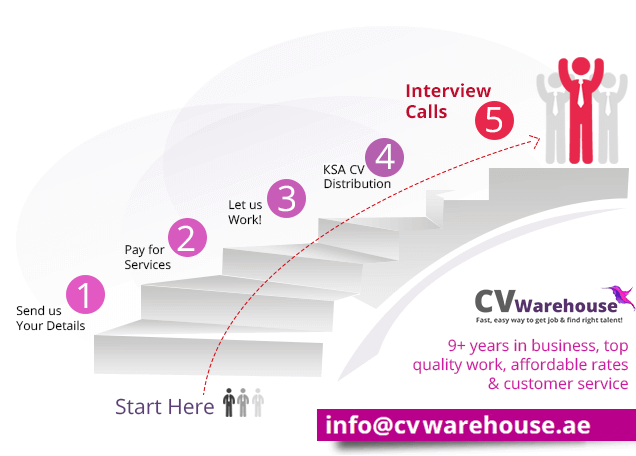 Now get job in Saudi Arabia or move to KSA with good job
We will send your CV to top recruitment employees in KSA so you can have better future
KSA (Saudi Arabia) CV Distribution Service
"Connecting right people at the right time across Saudi Arabia and around UAE"
Whether you are a professional individual or a fresh grad who is currently in search of the right company or the best employer that will match your degree, expertise and skillset, CV Warehouse Distribution service is the best place for all your career requirements. As your UAE's premier job board data bank and CV Distribution Services, we offer many job seekers and fresh grads the opportunity to leverage their chance to get employed and enjoy working within the field that they specialize through giving them a fast, reliable and easy access to KSA's marker leaders, diverse employers, and niche job sites.
If you feel that, your CV isn't reaching the right place or people you want it to, we are the right solution to get in touch with! We have built a strong connection and partnership with the largest businesses and leading companies in KSA, and for more than years since our inception, CV-Warehouse Distribution Services has already provided thousands of job seekers to find for the right job opportunity for that matches their skills and exigencies. And up until now, we are still committed in providing people with prompt and excellent CV Distribution around KSA, and still building strong and dependable connections with UAE's leading employers.
We are not only generating our partnership to those large and well-known companies, but we are also extending our strong connection to large group of KSA recruiters and HR Managers, who are hiring thousands of employees per week. What we do in our company is that we simply distribute your CVs to these extensive employers and recruiters to help you leverage your chance of getting hired in no time. We make your job hunting even more simple and convenient as we disseminate your CVs within your prospective job niche in the most reliable and safest way. When an employer seeks for a CV in their own database or email, we make it sure to place your CVs on its topmost visibility, thus, when any job vacancy was left open in a company database, you are the very first applicant to be prioritized.
How do We Work to find job in KSA?
At CV Warehouse Distribution, we always generate new partnership and connection with employers, recruiters, HR managers, companies and other recruitment agencies around KSA to help job seekers find a convenient employment option that is suited for their degree, education, skillset and expertise. And through our KSA - CV distribution services, we are opening your door to variety of possibilities of getting a good career path and earning a better future as a working professional. We sincerely understand that looking searching for job in the traditional way was never a simple and easy task to fulfill. That's why as a promise, we are very committed in providing job seekers like you, the chance of getting employed by the right company/employer in less time possible in Saudi Arabia. We take all the effort out of your hand as we do all the hard work to get you a job in no time.
If you are also looking job in KSA or want to move to Saudi Arabia the best and easy way is to send us email at info@cvwarehouse.ae for KSA CV Distribution.